Roaming Around Delhi with My Mom and Aunt
An aunt who is very close to us visited us recently after more than five years. Naturally, we went around town to some interesting places and restaurants.
Because she doesn't live in India, our focus was on Indian food, especially the tangy and spicy kind. Being chaat lovers and living in East Delhi, we obviously had to go to Bobby Tikki Waala in Preet Vihar (this is a rip-off of the more famous Bittu Tikki Waala in West Delhi). We had their amazing aloo tikkis and golgappas. We also wanted to try the moonglet but were too full to have anything else.
Kunal Kamra once said that when you go out in India for anything, you also get content for free. While at Bobby, we noticed an altercation between a customer and a restaurant staff member. As commonly seen in Delhi, a customer got really angry that he had to wait for his food and started taking it out on a staff member. While most workers end up tolerating this kind of obnoxious behaviour, this guy was in no mood to take the customer's shit. He started retorting with equal intensity. The customer's ego could not tolerate this and he threw the steaming hot food he had meanwhile received on the worker! Thankfully, the worker did not get hurt. Although the customer was constantly threatening to call the cops (for delayed food service?), he got a fitting reply when the restaurant called the cops on him for assaulting their staff member instead. His wife, watching on from a distance the entire time, must surely have been wondering about the kind of man she had married.
We then took a long-ish drive through the peaceful streets of Lutyens' Delhi, which put the entire episode out of our minds. There is something about driving late at night in Delhi that soothes the mind and makes one feel good. I think it's a combination of romanticism, nostalgia and hope, but maybe that's just in my head.
---
Somewhere in the chit-chat between my mom and my aunt, they decided that they wanted to have gatte ki sabzi. I wasn't able to find any good Rajasthani places in the vicinity so decided to visit generic North Indian places that also showed gatte ki sabzi in their menu. For some reason, Gulati Restaurant showed up in the list, and it was rated quite highly. When I couldn't find gatte ki sabzi on their menu on Zomato, I wondered if it was ommitted by mistake and called them up to cross-check. The person I spoke to suggested that it was available and that we should come. Getting to Gulati via Amrita Shergill Marg was a pleasure—it was beautiful at night. Alas, after waiting for half an hour, we eventually found out that there had been some confusion and that we wouldn't find a Rajasthani cuisine item at a Punjabi food place (duh). Nevertheless, there was enough sunk cost that we stayed there. The food was actually quite good and we enjoyed our dinner thoroughly. The Phalse ki Shikanji is worth mentioning separately—it was wonderful!
Our quest for decent gatte ki sabzi continued the next day and had us headed to Suruchi in Karol Bagh. This was a proper Rajasthani and Gujrati place. We ordered some Rajasthani Thalis that included gatte ki sabzi and finally had the peace that comes with a successfully executed mission.
---
On the final day of her visit, we went to Humayun's Tomb and Sunder Nursery. We also spent some time at the Waste to Wonder theme park that was on our way. After all that walking, we decided to to have Palak Patta Chaat at Prince Chaat in the GK-1 M-Block Market. This is yet another usual suspect that we always visit when showing someone around. As expected, the food was great.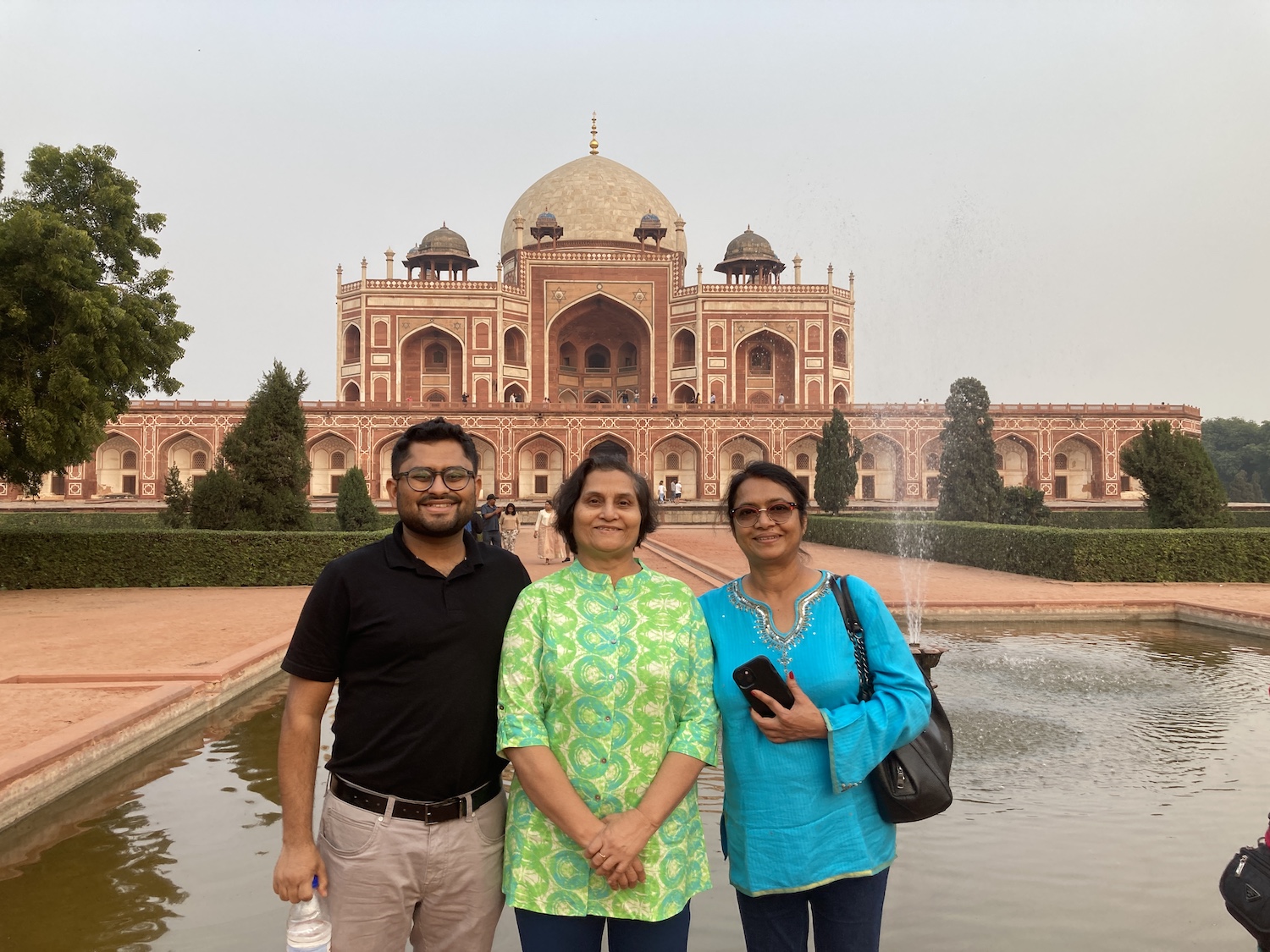 But we had saved the best for last. We took her to Alkauser in RK Puram for her visit's final meal. Our starters, Kakori Kebabs and Mutton Burras were amazing. My aunt was astonished by the range of flavours present in the burras. Our main course wasn't as great, though. We tried the Mutton Nihari and it was quite bland. We weren't able to enjoy it even though the mutton pieces were quite tender and we were having it with soft Khamiri Rotis and Warqi Parathas. So instead, we just ordered more Kakori Kebabs and that saved the day 😋.